Over the next decade, the demand for increased bandwidth is expected to increase exponentially, prompting a significant expansion of the existing fibre network. Mission-critical fibre cooling is instrumental to this rollout, with Akrivis recently installing vital air-cooling equipment in the deployment of a new 400 G-enabled route running the length of France. 
The project, which provides a secure fibre link between two of the country's essential internet hubs, is designed to provide an easier and more robust way to transport high-bandwidth traffic, delivering around 24 terabytes of data per fibre pair.  
Improving reliability with

fibre

cooling
High-quality air cooling and cleaning is essential to the reliability of this pivotal fibre expansion. To meet this need, Akrivis supplied specialist units designed specifically to improve uptime in demanding data infrastructure environments. 
Akrivis equipment combines free cooling and variable-speed mechanical cooling to reduce temperatures while minimizing energy consumption to ensure maximum efficiency and resilience. 
During free cooling, external air is used as a natural cooling source when temperatures are low enough. Depending on the outside conditions, this can significantly reduce the need for mechanical cooling or energy-hungry chillers, thereby achieving substantial energy savings. 
Akrivis can deliver up to 100% free cooling in some locations with a power usage effectiveness (PUE) rating of 1.04. Even in warmer locations, such as southern France, Akrivis software can reduce long-term operational costs by precisely managing free ambient and mechanical cooling.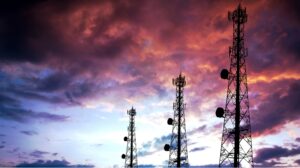 Meeting future connectivity demand
Reduced energy costs will play an important role in the process of expanding and diversifying the fibre network in the coming years.  
The current expansion in France, for example, has been built to support fast-paced bandwidth growth across the region, but it will also underpin scalable connectivity between Europe and the rest of the world. 
Southern France plays host to a major internet connectivity hub, including an intersection of terrestrial and subsea networks. Hubs such as this play a major role in transporting data traffic, providing an essential gateway between Europe, the US, Asia, Africa, and the Middle East. 
Investing in greener infrastructure
As data traffic increases between key commerce centres across the globe, the race to build out new fibre cooling infrastructure is set to accelerate. As in the recent French expansion project, environmental pressures will continue to inform investment decisions. 
Indeed, lower carbon emissions were a key factor in the selection of Akrivis cooling equipment. The units deliver up to 80% less carbon emissions compared to alternative cooling systems using a combination of precision temperature control, automatic energy adjustment and lower start-up currents. 
For those working to deploy the next generation of global communications infrastructure, this emphasis on sustainability is a must. The International Energy Agency estimates that data centres and data transmission networks are currently responsible for nearly 1% of energy related greenhouse gas emissions. 
With specialist units built for exceptional performance in data centre applications, Akrivis aims to play a vital part in addressing this issue, delivering ultra-low energy usage and outstanding reliability for tomorrow's high-bandwidth fibre network. 
If you'd like to learn more about how Akrivis can help reduce energy consumption and improve sustainability in infrastructure projects, talk to our engineers to discover how advanced air cooling and cleaning could support your next big build.